It is time for hope. There are hundreds of ways to take care of your health and the wellbeing of your community.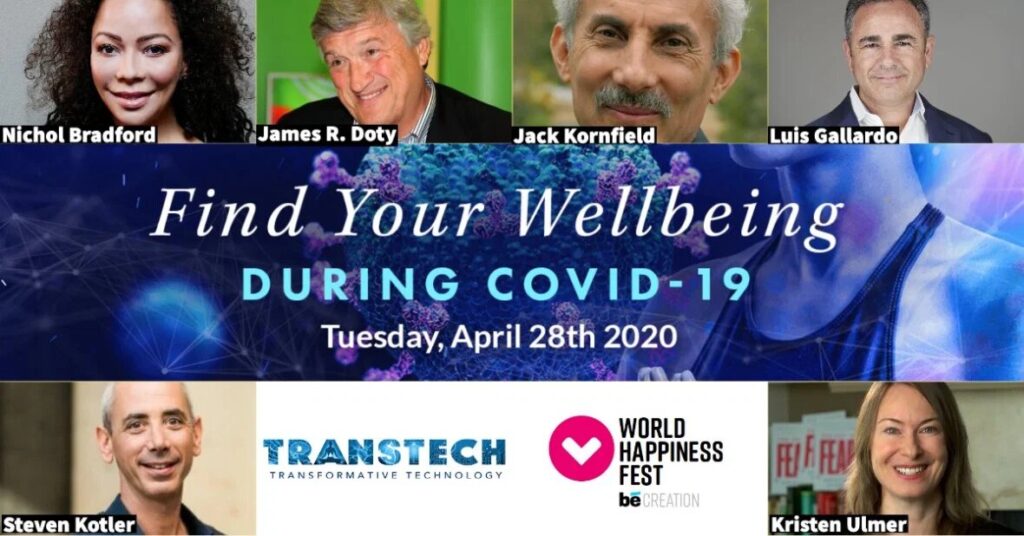 From a New York Times bestselling author, to the Stanford CCARE Director, we are covering all about the BIG NEXT in psychological health, wellbeing, and tech.
The #TTCOVID Summit is THE place to be to take your business forward after the crisis has passed. Some of our expert speakers include:
Nichol Bradford — Find Wellbeing Tech Right Now — CEO & Founder of the Willow Group and the Executive Director and co-founder of the Transformative Technology Lab
Jack Kornfield — Find Peace Right Now — Author, Buddhist practitioner and one of the key teachers to introduce Buddhist mindfulness practice to the West
Steven Kotler — Find Flow Right Now — New York Times bestselling author and an award-winning journalist, Executive Director at the Flow Research Collective
Alvaro Fernandez — Find Mental Hygiene Right Now — A recognized public speaker who runs SharpBrains, Editor-in-chief of seminal market reports on Pervasive Neurotechnology and Digital Brain Health, and co-author of the books The SharpBrains Guide to Brain Fitness
Joe Hudson — Find Connection Right Now — Joe has worked with hundreds of executives and their teams doing one-on-one coaching, private classes, and company off-sites teaching practical tools that transform individuals and businesses
Dr. Jim Doty — Find Compassion Right Now — a clinical professor in the Department of Neurosurgery at Stanford University and the director of the Center for Compassion and Altruism Research and Education at Stanford University School of Medicine
Kristen Ulmer — Move Past Fear Right Now — Kristen is a thought leader, master facilitator and fear/anxiety expert who radically challenges existing norms around the subject of this deeply misunderstood emotion
Dr. Ting Jiang — Find New Habits Right Now (with Behavioral Economics Hacks) — Ting Jiang, Ph.D., is Principal of Global Health and Development. An experimental economist by training, she has published in a wide range of disciplines related to behavioral change, social norms, and unethical behavior with lab and field experiments conducted in different countries
Amy Blankson — Find Digital Balance Right Now — Amy Blankson, bestselling author of The Future of Happiness, is the only person to receive a Point of Light from two sitting US Presidents.
Dr. Roy Rayman — Getting A Good Nights Sleep Right Now — Passionate Scientific Sleep Professional that blends behavioral & neuro-science with hardware & software engineering to create sleep experience products, Chief Scientific Officer at SleepScore Labs
Luis Gallardo — Find Happiness Even Now — Founder of the World Happiness Fest, bē and The Exponentials of Happiness Lab (TEOH Lab)
1-Day Online Summit where you'll find trials, discounts, A LOT of networking opportunities, and tip-heavy expert talks. We hope you can join us on April 28th, 2020, for it!